Take part in the footsteps of Willem Barentsz and the early whalers and go on a ski expedition to the infinite white mountains of Spitsbergen / Svalbard! This special Ski & Sail trip is only open to adventurous, experienced ski mountaineers. It is a true expedition to a remote and wild area. You navigate between the icebergs, have the opportunity to see polar bears, walruses, reindeer and pole foxes and ski over rugged glaciers above deep fjords. It's a once in a lifetime trip, an unforgettable journey high on the bucket list of many adventurers!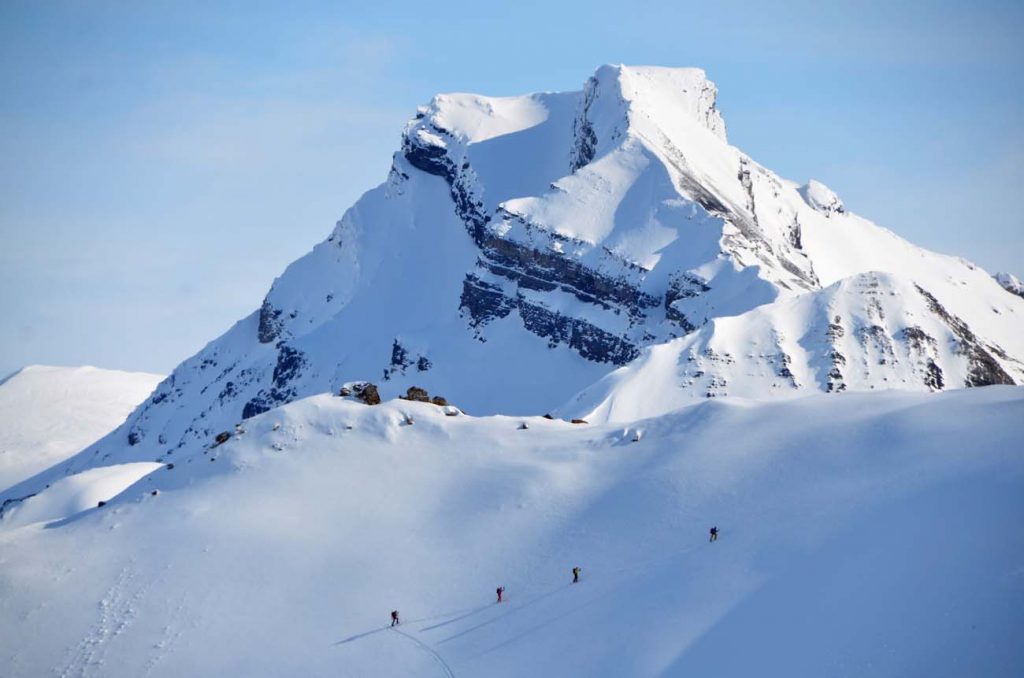 Spitsbergen is the largest island of the Svalbard Islands group. The archipelago consists of about 60 islands and is located in the northern ice sea at 79 ° north latitude. Not many places in the world are as far away and as wild as Spitsbergen.
Our arctic journey starts in the "capital" Longyearbyen. With SAS, you usually fly from Oslo in the early morning with arrival early afternoon. Longyearbyen is 870 km south from the North Pole and 600 km north of the European Northern Cape. It is a village with around 2,000 inhabitants.
We will sail on a beautiful historical two-masted schooner rig which is capable of sailing the seven seas. The vessel provides accommodation for 20 travellers in small twin cabins. The qualified captain has a great experience of the oceans. Together with the rest of the crew, they will do everything possible to ensure that you have a wonderful and unforgettable journey.
The embarking is planned on Saturday by the end of the afternoon. But for your own convenience and safety it is strongly advised to arrive minimum one day (better even more) prior to embarkation. This is a perfect opportunity to explore the area of ​​Longyearbyen and to calmly acclimatise to the Arctic climate and check your gear. Furthermore is this extra time necessary in case of luggage troubles or even flight troubles (due to the wild arctic climate, flights are sometimes cancelled), because the ship will sail as from Saturday night. It is also possible to book an excursion with sled dogs or by snowmobile to the Russian settlement of Barentszburg. In the evening you can meet the adventurous and very international local people in one of the bars. We will organise an extra 2 or 3-day trip including lodging in a nice hotel and skitouring-activities out of Longyearbyen, which can be booked separately. Details will follow.
Once we've finished the embarkation and the extended safety briefing and training are completed, the ship sails in the early evening out of Isfjorden, where you might spot the first minke whale of your voyage. During the next 6 days the group goes daily by Zodiac ashore to make beautiful skitours on more or less glacier terrain. The trips are usually 5 to 9 hours, whereby we cover 1000 to 1500 meters of altitude. Given the long days in the spring, we are in no hurry. It never gets dark and skiing in the midnight sun is a great experience that makes skiing in the far North extra special. As you ski from sea level, you are not bothered by the altitude. You can expect all kinds of snow from fluffy powder to spicy crust snow and even spring snow.
Your fellow travellers will be international ski mountaineers. The crew consists of highly experienced Dutch professional sailors and a cook. Expedition leader Edward Bekker will be assisted by a wildlife guide and further IFMGA guides. Together, they will adjust the program. The guides carry a gun with regard to the polar bears who can cross our path. Your fellow travelers are international and can come from all over the world, but the common denominator is adventurous and sporty.
In short, a special ski expedition in a rugged, arctic environment!
Want to know more about this trip? Then send us a mail.
Btw, smoking is not allowed on board.

Information
Nb days
8
Level
Experienced ski mountaineeris
Physical condition
Excellent level of fitness (health check required)
Ski / snowboard technique
Being able to ski up-and downhill in all kinds of terrain, also when it's steep.
Off piste experience
Extensive off piste experience
Skitouring experience
Extensive skitouring experience necessary, good balance, kick turn without problems. Experience with previous tour trips in arctic areas such as Norway, Sweden, Lapland, Greenland and Iceland is beneficial.
Number of participants
6
Our Service Package Includes
8 days / 7 nights full board on board (all meals on board including snacks, coffee and tea), guiding by Edward Bekker, armed, experienced expedition leader on board and on land.
Not Included Are
Flights to Longyearbyen and Vv (€ 650 pp from Europe), optional extra 2-day program in Longyearbyen (details will be communicated later) drinks, tips for the crew, dinners and lunches in Longyearbyen.
Price

as from € 3.450,- pp

Special early bird price !
Dates
Code
Date begin
Date end
Price
RVR18-23 twin porthole

Mon, 1 May 2023

Mon, 8 May 2023

CHF

3990.00


€

3950.00
Full
RVR18-23 twin inside

Mon, 1 May 2023

Mon, 8 May 2023

CHF

3490.00


€

3450.00
Full
RVR19-23 twin inside

Mon, 8 May 2023

Mon, 15 May 2023

CHF

3490.00


€

3450.00
Booking
RVR19-23 twin porthole

Mon, 8 May 2023

Mon, 15 May 2023

CHF

3990.00


€

3950.00
Booking
Contact
We spreken Nederlands, we speak english, nous parlons français, wir sprechen Deutsch
Edward Bekker Ski & Alpinisme Switzerland Sàrl
Route d'Emosson 4
Espace Mont Blanc
CH-1925 Finhaut
Valais - Switzerland
Built with HTML5 and CSS3 Copyright © 2022 Edwardbekker Sàrl - Website by MV