The Simplon pass, situated at an altitude of 2005 meters above sealevel, is an iconic place that has been an important link between Italy and northern Italy since the Middle Ages. Thanks to the altitude and the geographical situation on the border of the Northern and Southern Alps, it is one of the snowiest places in Switzerland. The surrounding Alpine peaks make it a true skitouring and splitboarding paradise with many options for beautiful day tours and superbe powder descents.
The starting point of this trip is on Wednesday in the early evening with a welcome drink and dinner, followed by a briefing from our IFMGA certified mountainguide and a first acclimatization night. The Simplon pass can be reached all year round by car and public transport (bus service from the city of Brig). We chose the memorial monastery of the Saint Bernhard Congregation as a place to stay, which serves as a very popular basecamp for backcountry skiers from all over the world.
Every day we make ski touring daytrips, preferably with the ascent of a summit. The selected peaks with altitudes between 3,000 and 3,500 m depend on the circumstances at that time and the tours depart directly from the monastery.
On Sunday morning we make a last short trip with a nice climb. End of the program around noon, after which the homeward journey follows.
This program is ideal for experienced backcountryskiers and split boarders; connoisseurs with a preference for beautiful (powder) descents. But also participants who have done some skitouring before but like to gain some extra experience with the ambition to do a haute route or other hut-to-hut skiing tour, are welcome to join.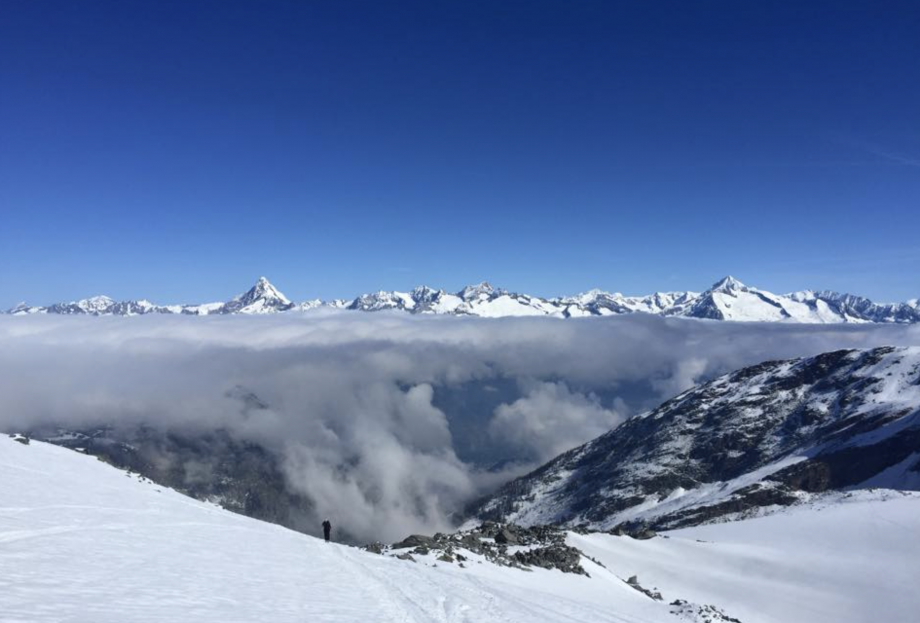 Information
Nb days
4
Level
Experienced off piste skiers and split boarders with skitouring experience
Physical condition
Excellent level of fitness and stamina for daily stages of 1000-1300 altitude gain and downhill skiing.
Skitouring experience
Kickturn must be controlled
Number of participants
4-7 per mountainguide
Our Service Package Includes
4 day halfboard based upon double rooms, 4 days accompanied by a IFMGA certified mountain- and ski guide, all technical safety gear, welcome drink
Not Included Are
Skirental for backcountry skis with ski crampons, freeride bindingen and skins (€ 100 for 4 days), lunches (sandwiches for sale at the hospice) and drinks, compulsory travel insurance covering backcountry skiing in Switzerland and Europe.
Price

€ 920,- pp

€ 20 pp early booking discount when booking before October 1, 2020. Free cancellation with cash back until November 1, 2020 (after that the regular cancellation conditions apply)
Contact
We spreken Nederlands, we speak english, nous parlons français, wir sprechen Deutsch
Edward Bekker Ski & Alpinisme Switzerland Sàrl
Route d'Emosson 4
Espace Mont Blanc
CH-1925 Finhaut
Valais - Switzerland
Built with HTML5 and CSS3 Copyright © 2023 Edwardbekker Sàrl - Website by MV