At Edward Bekker Ski & Alpinisme in Finhaut we have a large choice of freeride ski's equipped with skins and ski crampons.
What are freeride skis?

Freeride ski's are larger (as from 90 mm under the binding) than carving ski's and make freeriding much easier, safer and more fun. With these kind of skis you no longer need to be an expert to enjoy the pleasure of freeriding. We have a choice of skis in different sizes and withs and, equipped with freeride bindings and skins, you can use them for skitouring.
So called funcarvers (short piste skis), are not suited for off piste skiing as they won't be able to carry you in deep or crusty snow
Most of our rental skis are from Black Diamond, equipped with Fritschi Diamir bindings. In these bindings you can use your own downhill or freeride/skitouring skiboots. For skinning, you can unlock the heelpart of the binding, as in the picture. To be able to go uphill without sliding backwards, you will put climbing skins under your skis.
Prices skirental (incl skins and skicrampons)
| | |
| --- | --- |
| one day | CHF 30 |
| 5 days | CHF 120 |
| 6 days | CHF 140 |
| extra day(+6) | CHF 15 |
Reservation is necessary. Please reserve by mail or inb your booking form, maximum 10 days before the start of your trip.
To be able to reserve, please send a mail with the following info:
Name
Trip and date
Body lenght in cm
Weight in kg
Length of your skiboot in mm's, e.g. 316 (very important, this is mentioned on the side of your skiboot or you can mesure yourself). Without this information, we can not reserve your ski.
Shoe size
Skiboots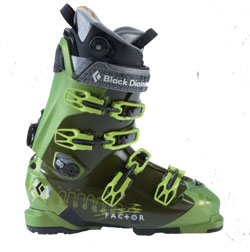 Nowadays there is a large choice of skiboots. Racing boots, freeride boots, skitouring boots and all kinds of models in between. A specific skitouring boot is very flexible and equipped with a Vibram sole, which makes hiking more comfortable. These kind of boots are perfect for skitouring programs. For all other (freeride) programs in which you ski more than you hike, a downhill or freeride boots is more suitable more precise and better support easier to drive big ski's They are available with a walking position too
Skiboots should be comfortable but not too big!. In the Chamonix valley there are several specialized bootfitters, we are happy to help you making an appointment and give advise