The province of Finnmark in the far north of Norway has countless beautiful ski mountains and thanks to its northern location between 70 and 71 ° and its own micro climate it may count on a stabile snowcover until the far spring, even down to the fjord. Finnmark is less well known and, above all, less accessible by car than the 80 km south-west situated Lyngen Alps. That is why it is an ideal area for a ski & sail trip in a rugged, arctic backcountry environment. Our basecamp for the whole week is the S/V Rembrandt van Rijn; a three-mast passenger sailing schooner with comfortable 2- and 3-person cabins.
Wilderness skiing from Troms to Finnmark or vice versa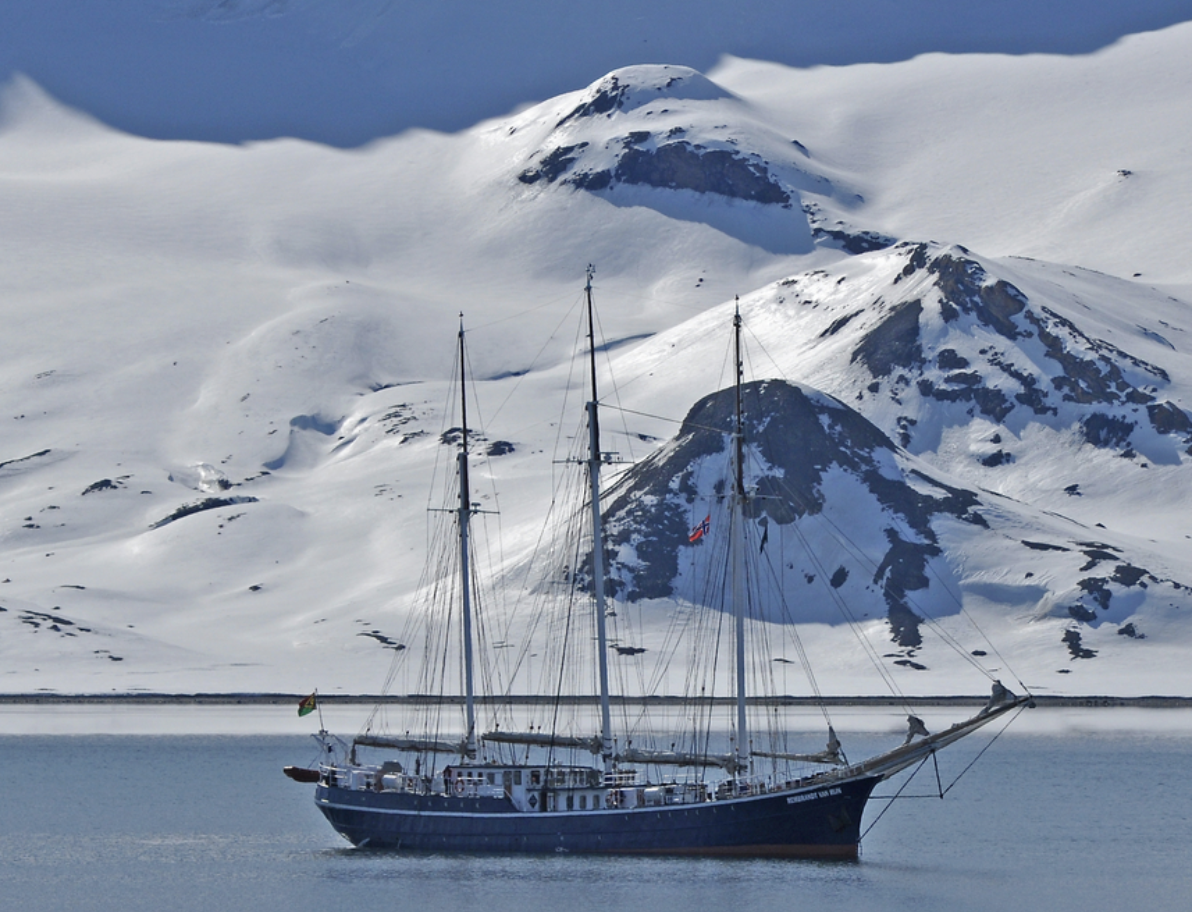 The starting point of the trip is the most northerly situated university city in the world: Tromsø in the province of Troms in Northern Norway. Here we board the 100 year old and completely renovated Dutch three-mast passenger sailing schooner S / V Rembrandt van Rijn. This iron expedition vessel can accommodate up to 33 guests in 2-person cabins and 1x 3-person cabin. You also share the ship with the 12 crew members who navigate the fjords safely throughout the week and provide excellent care for the passangers. Each cabin has its own private bathroom.
This is a pioneering trip for skitouring afficionados with a flexible mindset. We navigate through the fjords of Tromsø ± 400 km in a north-easterly direction towards Alta. Expedition leader Edward Bekker will determine the route together with the captain, depending on the circumstances at that time. Every day we make skitouring day trips from the fjord to peaks averaging around 800 to 1,000m high. We start directly from the fjord on the skis and thanks to the low start at sea level we have - unlike for example in the Alps - no problems with altitude. And that's something you will notice while climbing! Sometimes we climb a summit several times and we enjoy the beautiful descents in the virgin arctic snow. Occasionally it is also possible to make a traverse, where we are dropped off in one fjord and picked up in the other fjord. For lunch we take a picnic which we prepare ourselves during breakfast.
During the voyage we mainly sail through sheltered fjords and occasionally over open sea. Sometimes we anchor at night, but often we use the nights to cover longer distances. In order to go ashore, we use natural or man-made ports in small fishing settlements or in sheltered bays. If there is no harbour, we anchor in a sheltered bay and use the two Zodiacs to go ashore.
In short, a special ski touring week with expedition character in a rugged, arctic environment!
About the necessary equipment
You need to have good freeride skis with tec bindings, skins, skipoles and ski crampons, avalanche safety equipment (tranceiver, shovel, probe) and glacier equipment (harness, carabiners, possibly crampons). In terms of boots, freeride or touring boots (with walking position and rubber sole) are required (pegs / tec binding). If you do not have your own material, please let us know and maybe we can arrange something for you.
Information
| | |
| --- | --- |
| Nb days | 8 |
| Level | Experienced ski mountaineers |
| Physical condition | Excellent level of fitness (health check required) |
| Ski / snowboard technique | Being able to ski up-and downhill in all kinds of terrain, also when it's steep. |
| Off piste experience | Extensive off piste experience |
| Skitouring experience | Extensive skitouring experience necessary, good balance, kick turn without problems. |
| Number of participants | 6 à 7 per mountainguide |
| Our Service Package Includes | 8 days / 7 nights full board on board (all meals on board including snacks, coffee and tea), guiding by Edward Bekker and other IFMGA certified ski & mountainguide(s) |
| Not Included Are | All ski & safety equipment, soft and alcoholic drinks aboard, tips for the crew, flights to Tromsø and back from Alta, airport transfer (taxi) in Tromsø, supplement single cabin occupation |
| Price | As from € 2.400,- pp |
Contact
We spreken Nederlands, we speak english, nous parlons français, wir sprechen Deutsch
Edward Bekker Ski & Alpinisme Switzerland Sàrl
Route d'Emosson 4
Espace Mont Blanc
CH-1925 Finhaut
Valais - Switzerland
Built with HTML5 and CSS3 Copyright © 2022 Edwardbekker Sàrl - Website by MV