Do you like skiing and horses? Welcome to ski jøring! The winter sport that combines the thrill of skiing with fun equestrian sports. On skis you are pulled by a horse and we go as fast as you like.
Our Icelandic horses Byr and Seifur love ski-jöring as much as we do. For piste skiers we have a beautiful 400-meter flat path that starts at our chalet. Experienced off piste skiers can taste the art of freeride jøring in the powder. All in all a memorable experience: the interplay between humans and animals, in a beautiful backcountry winter wonderland. An original dimension of winter sports!
Only if the conditions permit, for more information contact us.
+++
Aimez-vous le ski et les chevaux? Bienvenue au ski joëring! Le sport d'hiver qui combine le plaisir du ski avec des sports équestres amusants. Sur les skis, vous êtes tiré par un cheval et nous allons aussi vite que vous le souhaitez.
Nos chevaux islandais Byr et Seifur aiment le ski-joëring autant que nous. Pour les skieurs de piste, nous avons un beau sentier plat de 400 mètres qui commence devant notre chalet. Les skieurs hors-piste expérimentés peuvent goûter l'art du freeride joering dans la poudreuse. Dans l'ensemble, une expérience mémorable: l'interaction entre les humains et les animaux, dans un beau paysage hivernale. Une dimension originale des sports d'hiver!
Seulement si les conditions le permettent, pour plus d'informations contactez-nous.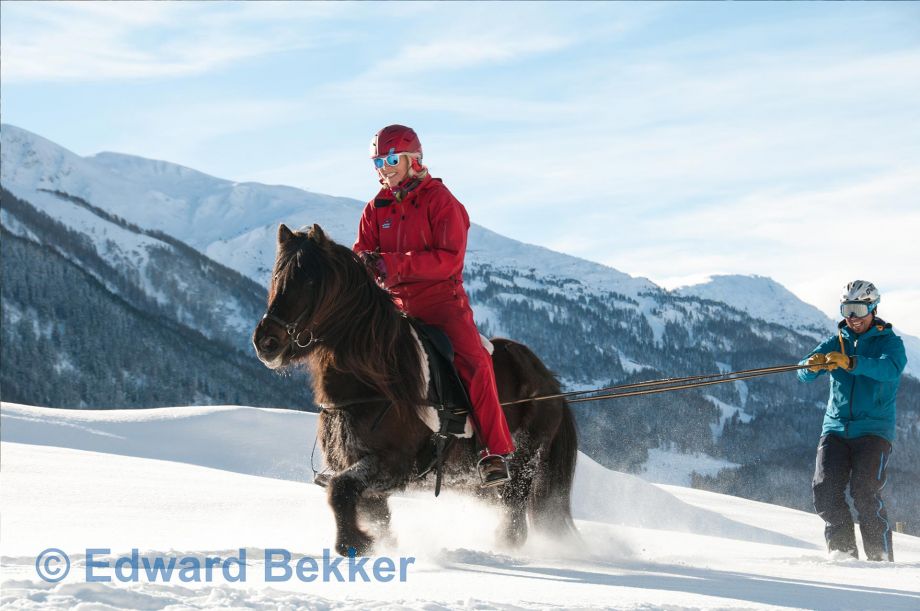 Information
| | |
| --- | --- |
| Nb days | 1 |
| Level | experienced skiers, kids as from 6 years old / skieurs chevronnés, enfants à partir de 6 ans |
| Number of participants | minimum 2 participants |
| Our Service Package Includes | 15 minutes skijøring per person / 15 min par personne |
| Price | CHF 20 pp |
Some pictures
Click to expand