Mountainbike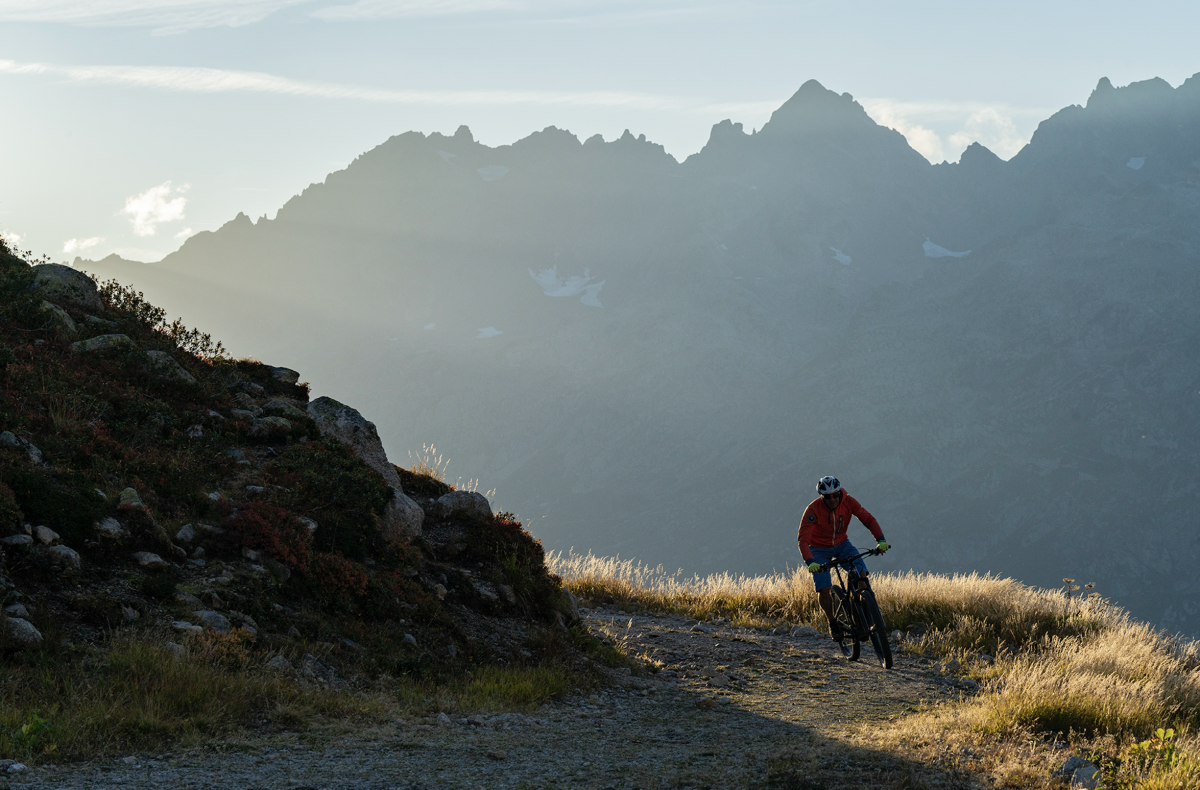 Mountain bike has definitely undergone a revival lately. Our beautiful three-country region around the Mont Blanc massif and the Swiss Valais lends itself perfectly for challenging mountain bike trips with beautiful single trails, high cols with spectacular views, steep and less steep descents and endless gravel roads.
The rise of the e-mountain bike has made cycling even more fun! Thanks to the extra power, going uphill is suddenly a lot more dynamic and you'll have enough energy to climb several thousands of meters. This greatly expands your range and increases the choice of terrain. After all, you can easily top up with another steep climb.
You might not say it, but E-mountain biking in the Alps can be physically as hard as biking without a battery. Because that extra power is so addictive, you often kick harder and because you get tired less quickly, you keep it up longer. It is obvious that e-mountain bikers ride almost continuously with a huge grin on their faces!
The pleasure and sensation of e-mountain biking is, in our opinion, comparable to freeriding on skis. The dynamics, required technique and the rugged alpine world, far away from the masses, make it a true outdoor adventure. That is why (E-) mountain biking is a logical addition to our mountaineering and skiing program.
Our guides
In 2019, Edward followed an additional mountain bike guide course at the DIMB (internationally recognized Mountainbike Guide C level) tailor-made for certified mountain and ski guides. Components of this training are riding technique (braking, steering and descending technique), the various positions on the bike, materials knowledge, safety and didactics. With this, he now also has all the tools to provide his guests with mountain bike training.
In addition to the specific mountain bike skills, you also benefit from the extensive knowledge, experience and eye for safety that you are used to from a IFMGA certified mountain guide.

Our mountain bike travel program
We are currently working on the planning and implementation of our new mountain bike program. The following trips are on the program:
E-mountain bike Haute Route from Chamonix to Zermatt in 7 days
E-Mountain bike Tour du Mont Blanc in 3 days
4-day mountain bike tours from our Bekker Chalet, both Enduro / Trail (with shuttle service and use of lifts) and by E-MTB. Specific technique training is also discussed.

In cooperation with a bike shop in our area, we can also offer rental of e-mountain bikes and enduro / trail mountain bikes.
We use our own minivan with trailer for local transfers.
The Bekker Chalet offers the ideal base for all mountain bike tours. With good beds, delicious food, sauna, wood-fired hot tub and large sun-drenched terrace. In addition, we have a spacious garage where your bike is safe, brushing options for your bike (Kärcher and brushing / work standard) and a small workshop.
If you are interested or already have questions (also for private arrangements), please contact us!
Contact
We spreken Nederlands, we speak english, nous parlons français, wir sprechen Deutsch
Edward Bekker Ski & Alpinisme Switzerland Sàrl
Route d'Emosson 4
Espace Mont Blanc
CH-1925 Finhaut
Valais - Switzerland
Built with HTML5 and CSS3 Copyright © 2023 Edwardbekker Sàrl - Website by MV