Which kind of boots do I need for my mountain tour (eg the ascent of Mont Blanc)?
Boots need to be at least crampon-friendly. The Mont Blanc is much colder than most other 4000ers in the Alps, so particularly for Mont Blanc your bots should be warm enough.
In our depot we have various types of crampons (flexible with nylon straps and with a folding clamp / quick release) that can be made suitable for most boots. However, preference is given to heavier boots as the la Posrtiva ones in the picture. This means ythat you should choose a boot with a higher shaft and thick upper and a completely rigid sole. There are also models of a combination of leather and plastics to save weight. Models with riser recesses behind or behind / front are also suitable for quick release crampons and very suitable for climbing the Mont Blanc. Category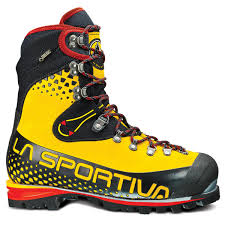 If you are in doubt whether your boot suits for your trip: Bring your boot and show it to the guides. In case the boot doesn't fit for the trip, you can rent a pair in Chamonix (Zermatt or elsewhere)
What can I do against blisters?
Blisters can spoil your holiday week pretty well and can even cost the summit! Prevention is obviously better than cure! Therefore choose well-fitting socks without seams and of course well-fitting boots. There are special foot creams on the market with which you can rub your feet beforehand to 'harden' the skin. Ask your drug store, pharmacy or outdoor specialist store for advice. Also prevent sweaty feet by sprinkling talcum powder in your socks.
If you are sensitive to blisters, we advise you to tape your feet on the sensitive areas (eg heel, under the big toe ...) with sports tape. You can leave this tape for the whole week. Are you extra sensitive to blisters? For the sake of certainty, place a blister plaster on the extra sensitive spots as a precaution (eg Compeed, CarePlus or Hansaplast) and a layer of sports tape on top of that, which you can leave on all week. As a result, the risk of blisters becomes virtually nihil.
Contact
We spreken Nederlands, we speak english, nous parlons français, wir sprechen Deutsch
Edward Bekker Ski & Alpinisme Switzerland Sàrl
Route d'Emosson 4
Espace Mont Blanc
CH-1925 Finhaut
Valais - Switzerland
Built with HTML5 and CSS3 Copyright © 2023 Edwardbekker Sàrl - Website by MV