Whoever thinks of off piste skiing and skitouring should automatically be aware of mountain danger and avalanches. Off-piste skiing, ie freeriding isin the base a sport containing risks. But off piste skiers, snowboarders and freeskiers are not by definition the adrenaline addicted thrill seeker the general public has them for. Most of them are just life lovers and also father, mother, son, daughter, friend or girlfriend. They simply want to enjoy the prettiest spots and decents, experience powder face shots, slide through buttersoft springsnow, deliver an ultimate physical performance or just enjoy a moment in moutain wilderness.
In short, the risk is manageable. You can do that by training yourself through online or physical snowsafety trainings. With a safety kit consisting of a avalanche beacon, shovel and probe, possibly supplemented with an ABS or airbag avalanche backpack. But then you're not there. In addition, you also encounter other dangers during freeriding. Such as extremely steep passages, narrow ridges, rocky cliffs, treewells, corniches, crevasses and icefalls. Even though you have followed snow safety trainings, you carry an expensive ABS backpack and safety kit you that you train with regularly with: there are still many dangers left. That's why you go out with a professional, a IFMGA-certified mountain and ski guide who has attended a 4-year full-time education at bachelor level and is trained on a yearly basis in the latest techniques and insights in snow and mountain sports. Someone who is out in the snow on a daily basis, keeps track of the snow and avalanche reports a winter long and can interpret its data, someone who speaks the language of the region you're in and has access to an extensive network of professionals in the region. A residual risk is always there. But by way of illustration: Edward Bekker has been in the mountains on a daily basis for more than 3 decades in potentially dangerous areas, and fortunately, within our company we have never been exposed to serious accidents (and we hope to keep it like this too!). Of course, there is also some luck, but especially a lot of field knowledge, experience, supplemented with a dose of fingerspitzengefühl.
ABS avalanche backpacks
It my be clear that avalanche safety is of the utmost importance. Use of and avalanche safety kit consisting of a beacon, probe and shovel is therefore always free of charge and included in the price of your trip. For trips starting at our own skilodge, the Bekker Chalet, even an ABS avalanche backpack is standard included. Training in dealing with this standard safety equipment is extensively addressed in every off-piste / freeride or skitouring programme. But the most important thing, of course, is to avoid getting into an avalanche, and for that reason you are heading for a IFMGA certified mountain and skiguide.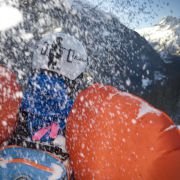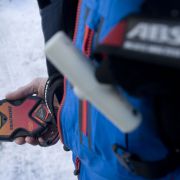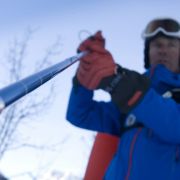 For tours from huts to huts, we generally do not use an airbag backpack because they are too heavy, which makes you slower and ultimately more exposed to any avalanche danger. However, you are free to use your own avalanche airbag backpack, but only after consultation with the guide.
Contact
We spreken Nederlands, we speak english, nous parlons français, wir sprechen Deutsch
Edward Bekker Ski & Alpinisme Switzerland Sàrl
Route d'Emosson 4
Espace Mont Blanc
CH-1925 Finhaut
Valais - Switzerland
Built with HTML5 and CSS3 Copyright © 2023 Edwardbekker Sàrl - Website by MV