Iceland, land of Fire and Ice. The island is situated on the edge of the Arctic Circle and is unique in the world. You will find smoldering volcanoes, bubbling pools, grand waterfalls and rugged glaciers. The most beautiful and highest ski mountains in the country are located on the Troll Peninsula up North. The ridges close to the deep fjords and about 90% of the mountains are "skiable", without many flat parts, rocks and vegetation. The descents are between 900 and 1,300 meters in height. This trip is carried out in collaboration with our colleagues from Arctic Heliskiing.
Highlights

Heliski with ocean view! A unique experience in a fascinating environment.
We work closely with fellow company Arctic heliskiing and Edward Bekker itself is part of the guide team. For group bookings of at least 4 people, Edward Bekker is your helicopter guide on site.
No additional costs if you book your heliski trip with Arctic Heliskiing through our organization. For that, however, you will receive personal travel advice from the mountaineering specialists who know the country like the back of their hand and simply give you all travel information.
Possibility to extend your trip with a touring / freeride combination, possibly guided by Edward himself who spends more than a month in Iceland every year.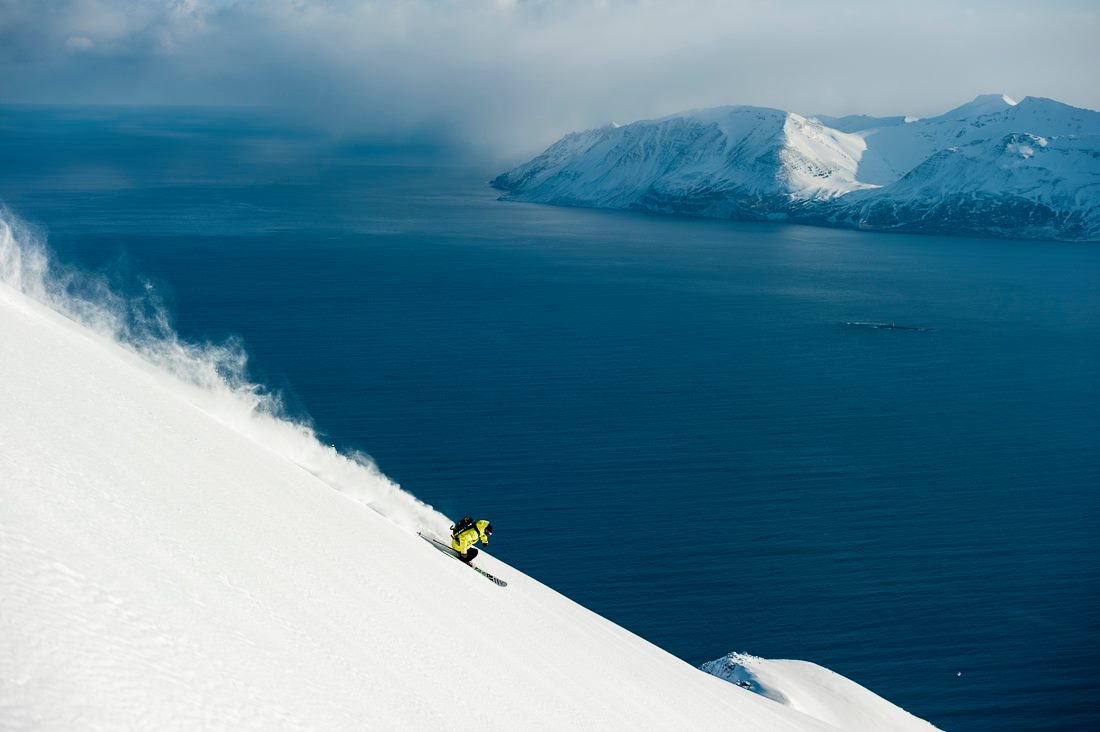 Klaengsholl Lodge
Your 'basecamp' is the Klaengsholl lodge. The private lodge is remote in a beautiful valley between mountains and is accessible via the dirt road. The helis are on the site, consisting of a former farmhouse with outbuildings and guesthouses with 2 room apartments. After a day outside in turbulent Icelandic weather, a drink in the hot pool is a treat. And with a bit of luck you can admire the northernlights from the hotpool! The chef prepares delicious dishes with preferably fresh local ingredients. The Icelandic kitchen is a true feast for your taste buds!
You will be pampered here by the team and you will immediately feel at home!
Weather and snow conditions
The heliski season runs from the beginning of March to mid-May. In March there are hardly any skiers, which makes it pleasantly quiet and you can enjoy the northern lights. Later in the season you benefit from daylight until late in the evening.
Due to the sea climate, you will find changing circumstances quickly. You can encounter all types of snow in one day; powder, spring snow, slush, hardpack and firn. This makes skiing an extra challenge. On the other hand, the temperature differences are smaller between day and night, making the snow cover usually very stable. Due to the lower avalanche risk you can ski steeper than what you could ski in Canada for example.
Contrary to what the name Iceland suggests, you will not find extreme cold here. The normal temperature in March is between 0 and -10 ° C, gradually increasing as the season progresses.
In the event of bad weather…
The Icelandic climate is turbulent. A frequently heard Icelandic joke is that if the weather is bad, you have to wait 5 minutes. So the weather can change quickly. The heli can't fly? In that case we can use the lifts of the ski area of Siglofördür or go catskiing. Is it really too bad to ski? Then there are plenty of other activities, such as a visit to the Myvattn Nature Reserve with its volcanoes, hot springs and bubbling mud pools. A visit to the geothermal baths and the local micro brewery make a down day such a highlight!
Equipment
The most important part of your equipment is your own ski boots. Ski and touring boots can also be rented or borrowed on site, but these are never as comfortable as your own, trusted boots. Even if you plan to take touringboots on site, always take your own ski boots with you. You must reserve boots in advance to avoid disappointment.
In terms of clothing, it works best to work with layers. Thermo undergarments, a light skipull, possibly a sleeveless jacket or waistcoat, a down jacket (or synthetic down such as primaloft) and a hardshell top layer. You can take a softshell jacket with you as an extra, but it does not replace the hardshell top layer (for example Gore-Tex ProShell). You can encounter wind, cold (but not extreme), snow, sun and rain. And all in a very short period of time!
Further info? contact us!
Information
| | |
| --- | --- |
| Nb days | minimaal 4 |
| Level | Excellent off piste skiers in all kinds of snow and terrain |
| Physical condition | excellent physical coditopn |
| Off piste experience | Extended backcountry ski experience with a guide required |
| Number of participants | 4-12 |
| Our Service Package Includes | lodging with full board (breakfast, lunch pack, after-ski snack, 4-course dinner), soft drinks and beer, all guide costs and local transfers, use of heli (number of flying hours depending on the chosen program), all freeride safety equipment incl. ABS avalanche backpack, use of freeride skis with tour bindings, sheets and resin requirements, excursions and alternative programs in bad weather |
| Not Included Are | Wine (you can bring your own), personal expenses, any cancellation insurance, mandatory travel insurance with backcountry coverage |
| Price | zie data |
Contact
We spreken Nederlands, we speak english, nous parlons français, wir sprechen Deutsch
Edward Bekker Ski & Alpinisme Switzerland Sàrl
Route d'Emosson 4
Espace Mont Blanc
CH-1925 Finhaut
Valais - Switzerland
Built with HTML5 and CSS3 Copyright © 2023 Edwardbekker Sàrl - Website by MV