Do you like skiing and horses? Welcome to ski jøring! The winter sport that combines the thrill of skiing with fun equestrian sports. On skis you are pulled by a horse and we go as fast as you like.
Our Icelandic horses Byr and Seifur love ski-jöring as much as we do. For piste skiers we have a beautiful 400-meter flat path that starts at our chalet. Experienced off piste skiers can taste the art of freeride jøring in the powder. All in all a memorable experience: the interplay between humans and animals, in a beautiful backcountry winter wonderland. An original dimension of winter sports!
Those who are experienced horseback riders (max 70 kg) can even try the Icelandic tölt themselves by pulling your friend(s) on skis or snowboard.
Only if the conditions permit, for more information contact us.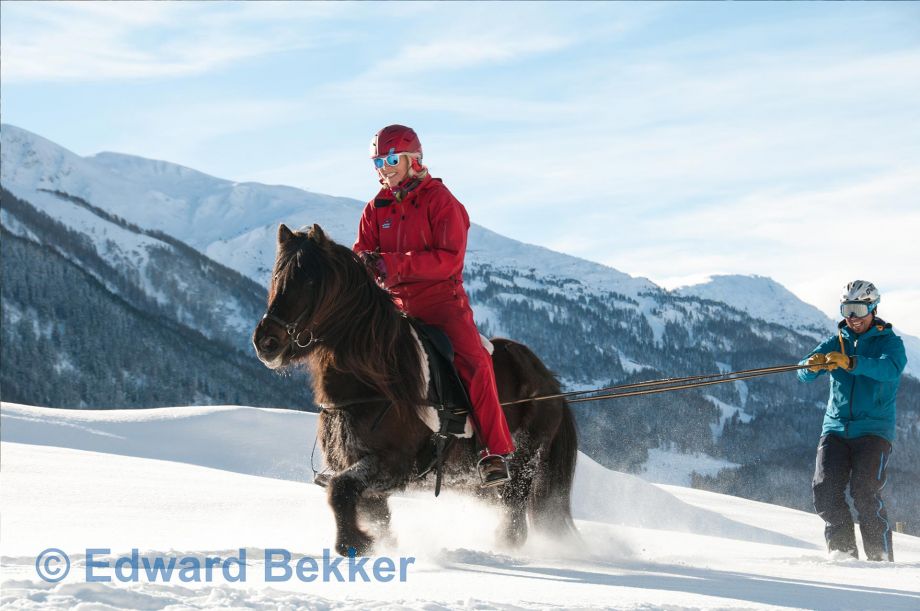 Information
Nb days
1
Level
being able to ski without falling
Number of participants
1 - 3
Our Service Package Includes
maximum 2 adults or one adult and two children during a 20-25 minute ride
Not Included Are
Ski equipment and helmet
Price

CHF 30.-

per group for maximum 2 adults or one adult and two children during a 20-25 minute ride
Contact
We spreken Nederlands, we speak english, nous parlons français, wir sprechen Deutsch
Edward Bekker Ski & Alpinisme Switzerland Sàrl
Route d'Emosson 4
Espace Mont Blanc
CH-1925 Finhaut
Valais - Switzerland
Built with HTML5 and CSS3 Copyright © 2023 Edwardbekker Sàrl - Website by MV