How nice is it after a day out in the snow to find a warm place where you feel at home, having a nice glass of wine or a beer and relax? Great beds and food are an important part of a successful holiday, and we pay close attention to that!
Bekker Mountain Chalet
Some of our groups stay in our own ski lodge, the Bekker Mountain Chalet, where Edward and Ilse also live and our material depot and workshop are located. We offer a ground floor apartment with 2 bedrooms each with 4 beds and a total of 2 showers and 2 toilets. There is also a separate twin room with private shower and toilet on the 1st floor. Although we have 10 beds, our ski groups consist mainly of 5 to 7 persons. You can indicate a room preference at your booking, but we can not confirm that we can meet your requirements until we have completed the final composition of the group. Either way: first come, first served. An additional reason to book in time!
Our chalet is fully equipped, including a sauna and wood-fired hottub on the terrace, a spinning bike to stroll your stiff muscles after a day of skiing, TV with DVD player, bluetooth music system, fast WIFI, a wood stove, kitchen with oven, microwave and fridge and not to mention a nice beverage menu with good wines and a choice of great beers (and of course all kinds of soft drinks). Coffee and tea are always included free of charge during your stay.
So you share a home (and sometimes a bedroom) with other participants in your booked trip. This may require some adaptability (take earplugs in case you encounter a snoring roomy), but on the other hand, it also brings a lot of fun and often new friendships. After all, you are traveling with like-minded people!
The food is almost always prepared by Ilse herself with fresh, local and healthy ingredients. Edward and Ilse appreciate themselves some good food and drinks, and you'll find that on your plate and in your glass. Sometimes you'll have dinner in a local restaurant (menu included in your half board, drinks will be paid on site) to allow Ilse to take a night off.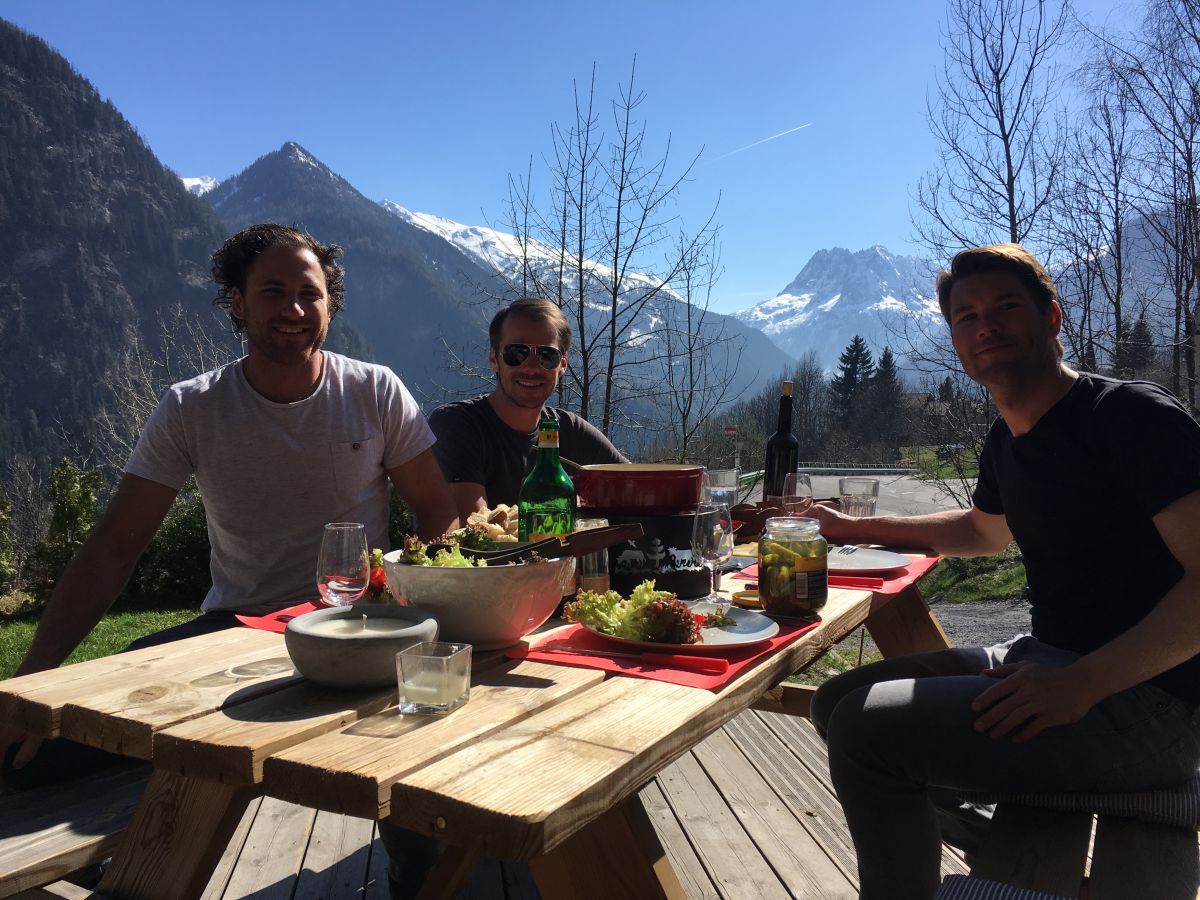 Other trips in the Alps
For almost all our other trips in the Alps we choose hotels. Sometimes simple, sometimes more luxury, but we try to work with hotels that have friendly and hospitable staff, have a good kitchen and, if possible, have wellness facilities. Free wifi is always a very important part in our hotel choice. Unfortunately, in some places, the choice is not huge, so decoration-wise the hotels in the smaller places are not the hottest of the hottest, but that's its charm again. And these little secret places are our specialty.
Other skitrips outside the Alps
For our skitrips outside the Alps, the convenience level depends on the country you are and the infrastructure and culture on the spot. We try to find the best hotels serving local food.
Hut-to-hut trips
Our treks and hut-to-hut trips start and end in the valley in a nice hotel (if possible our own Bekker Chalet), preferably in a place where you can leave your car and personal belongings safe. The huts themselves are sometimes comfortable with small rooms and even from time to time a real shower, but you can also come across dense overpopulated and noisy dormitories. And everything in between. All this depends on the chosen route. But yes, that is part of the adventure! Huts sell many things: drinks, snacks and packed lunches for the next day and in most hutss you can also pay with a debit card or credit card, even though some huts prefer cash and sometimes you will be charged for credit card fees.
Most high altitude huts do not have running water.
Nowadays, most huts can take care of allergies and diets. If you have a serious allergy (for example, Coeliaki), it is recommended to take some extra food with you as well. We communicate your menu preferences when booking, but it is always better to communicate your wishes and allergies for your safety upon arrival at the hut itself.
If you are sleeping in huts, it is important that some rules are observed. For example, it is common for the hut not to enter on ski or mountain boots (there are always slippers available) and you should leave your climbing materials (ice axe, crampons) and skis in the hall or the designated place. An occasionally hand help with setting and cleaning the table is highly appreciated everywhere! Just like offering a drink to your guide who has guided you safely to the cabin ;-)
Contact
We spreken Nederlands, we speak english, nous parlons français, wir sprechen Deutsch
Edward Bekker Ski & Alpinisme Switzerland Sàrl
Route d'Emosson 4
Espace Mont Blanc
CH-1925 Finhaut
Valais - Switzerland
Built with HTML5 and CSS3 Copyright © 2023 Edwardbekker Sàrl - Website by MV