Who doesn't dream of it? Skiing off the beaten track, discovering new places, preferably far away from the masses. Powder skiing, tree skiing, glacier descents, hut-to-hut skiing ... Some knowledge, technique and experience in all types of snow are required to enjoy off-piste skiing or freeriding and ski touring. During this training weekend you will develop your basic skilles of skiing in unprepared terrain under the guidance of an experienced IFMGA certified mountain and ski guide.
This weekend has been specially developed for advanced skiers, who want to learn how to ski outside the groomed slopes. But even skiers who have already participated in a similar program before, will get challenged by the varied terrain the Mont Blanc Massif has to offer. During this weekend the emphasis is on 'learning by doing': freeriding in a relaxed atmosphere.
The Piste to Powder weekends are intended for experienced pisteskiers (you can descend black slopes safely and in a controlled manner) who want to improve their skiing technique outside the piste. Off piste experience can be advantageous, but is not necessary to participate. It is also intended for participants who have previously been introduced to freeriding with or without a mountain guide, but are not yet completely sure of themselves and would like to train some more skills. From time to time, in order to be able to reach the beautiful descents, we will put on our climbing skins for a short hike up. That is why freeride skis with skins are standard included in this program.
The journey takes place from the Bekker Mountain Chalet; our own catered ski lodge with wellness facilities in the Swiss town of Finhaut-Emosson, strategically located in the Vallée du Trient between Chamonix and Martigny. The place is easily accessible by train and car. We will ski in the areas of Les Marcottes and Vallorcine, both within 10 minutes from our chalet by train or own 4x4 minivan.
In the evening you can enjoy a good glass of wine, good food and relax in front of the wood stove, in the sauna or in the wood-fired hot tub on the terrace. You spend the night in 2-3 person rooms.
​Programme
Saturday
08:30 Welcome to our base camp, the Bekker Mountain Chalet in Finhaut-Emosson. Guests traveling by train are picked up at Finhaut train station (www.sbb.ch). For those traveling by car, there are several free parking options on the property
08: 30-09: 30 Briefing with coffee / tea and croissant, safety video and avalanche safety theory
09: 30-10: 30 Distribution of skis and safety equipment, avalanche safety exercise in practice
11:00 am - 4:00 pm Off piste skiing. Lunch in a piste restaurant.
16:00 - 17:00 Back to the chalet. Après ski snack and wellness options.
19:30 3-course dinner, overnight stay
Sunday
07: 45-08: 30 Breakfast, check out of the rooms
08:30 - 16:00 Off piste skiing
16:00 return of the gear and end of program
please contact us for a reservation request for private groups
| Number of participants | Price per person € | Price per person CHF |
| --- | --- | --- |
| 2 | € 890,- | CHF 890,- |
| 3 | € 720,- | CHF 720,- |
| 4 | € 590,- | CHF 590,- |
| 5 | € 550,- | CHF 550,- |
| 6 | € 500,- | CHF 500,- |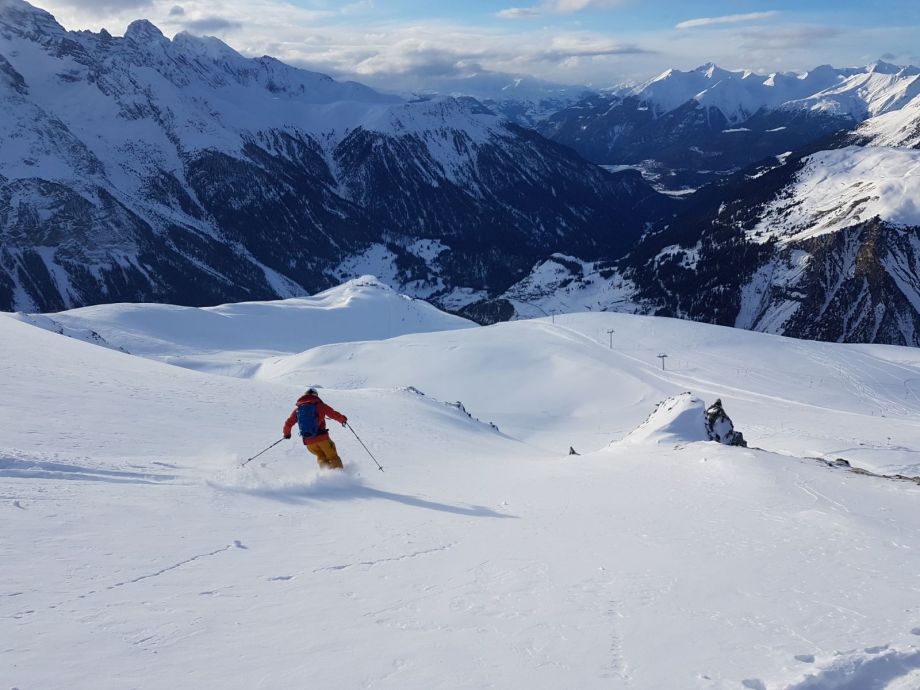 Information
Nb days
2
Level
Experienced piste skiers, not necessarily experienced in off piste
Physical condition
Good fitness level: 2-4 hours per week intense exercise* (* = at least 65% of maximum heart rate. If in doubt, please contact us)
Ski / snowboard technique
Good = you can easily and controlled descend groomed black runs and moguls
Off piste experience
None or occasionally on your own off piste
Number of participants
min. 4 - max 7
Our Service Package Includes
2 days guidance by IFMGA certified mountain & ski guide, use of all avalanche equipment, (avalanche beacon, probes, shovel and ABS avalanche airbag), ski rental freeride skis with skins and poles (bring your own boots!), free coffee and tea in the chalet, après ski snack in the Bekker Chalet, use of the wellness facilities.
Not Included Are
Ski &Train pass Marécottes (part of the Magic Pass) and day pass ski & train Vallorcine, lunches, drinks and extras
Price

€ 700,- pp

CHF 700,- pp
Contact
We spreken Nederlands, we speak english, nous parlons français, wir sprechen Deutsch
Edward Bekker Ski & Alpinisme Switzerland Sàrl
Route d'Emosson 4
Espace Mont Blanc
CH-1925 Finhaut
Valais - Switzerland
Built with HTML5 and CSS3 Copyright © 2023 Edwardbekker Sàrl - Website by MV