For almost all of our guided backountry skitrip in the Alps and abroad ski's equipped with touring bindings For snowboarders, a split board (with skins and skicrampons) is mandatory.
During our ski /snowboard tours you'll go backcountry, away from the slopes awhere we can find the most beautiful, unspoilt downhill deepsnow runs. If you're lucky and it's snowing all week, we'll find those slopes closer to the pistes, but it's more realistic that it hasn't snowed for a couple of days and in that case we go further backcountry. Sometimes after half an hour or hour skinning up, a new world opens for you and you'll just find that virgin powder that you've dreamed of. Our experienced mountain and skiing guides know these spots at their fingertips and it would be a shame to miss pout on those beautiful places if only one person in the group does not have the appropriate equipment. A bit of hiking of skinning up belongs to freeriding, from introductiory courses like our Piste to Powder programmes to freeriding trips for experienced freeskiers.

What are freeride skis?

Freeride ski's are larger (as from 90 mm under the binding) than carving ski's and make freeriding much easier, safer and more fun. With these kind of skis you no longer need to be an expert to enjoy the pleasure of freeriding. We have a choice of rental skis in different sizes and withs and, equipped with freeride/touring bindings and skins, you can use them for skitouring.
So called funcarvers (short piste skis), are not suited for off piste skiing as they won't be able to carry you in deep or crusty snow
Most of our rental skis are from Black Diamond, equipped with Fritschi Diamir bindings. In these bindings you can use your own downhill or freeride/skitouring skiboots. For skinning, you can unlock the heelpart of the binding, as in the picture. To be able to go uphill without sliding backwards, you will put climbing skins under your skis.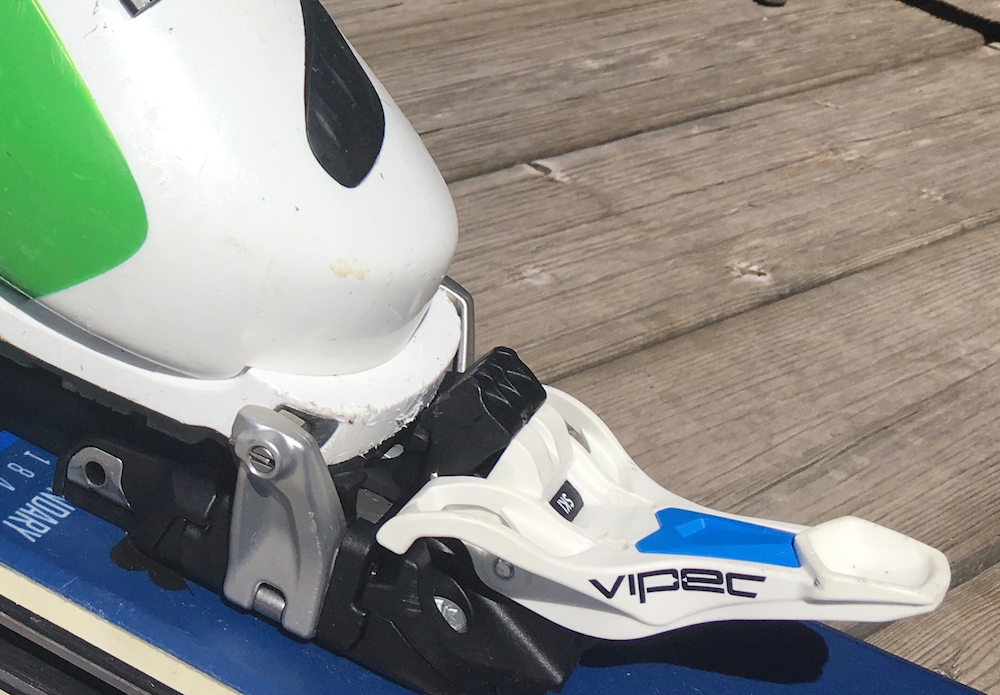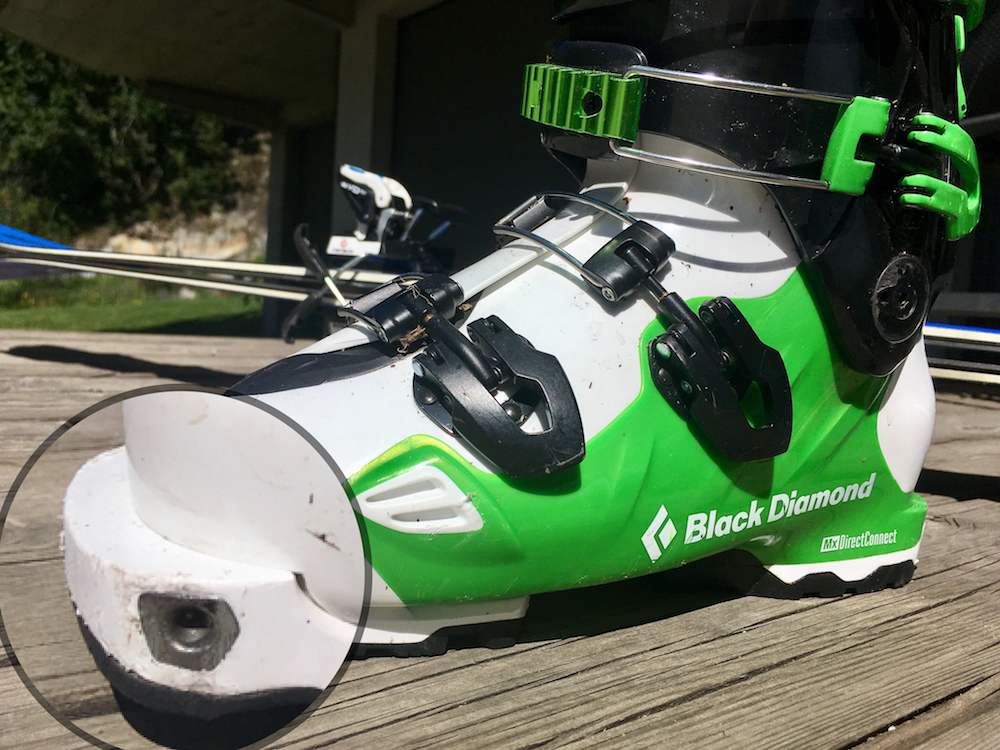 What's the difference between skitouring and freeriding skis?
A skitouring ski is generally lighter than a freeride ski. It makes walking easier, but skiing itself is less stable. Light skis are great for heavy-duty skitouring tours like the haute route (hut to hut on skis) where you will walk more than ski. Often, skitouring ski's have a so-called tech-bindinsg, which allows you to save weight on the binding. For this you need shoes need to be equipped with so-called 'inserts' (see photo). Nowadays there are also nice freeride boots and bindings with tech inserts (e.g. Fritschi Vipec binding). Some of our skis are equipped with such bindings. Do you have boots with inserts? Then, if you want to rent skis, please enter this on your registration form. This is by no means a guarantee that you will actually have ski's withc tech-bindings as we only have a limited amount of these skis / bindings in not all sizes.
Skirental prices (incl skins and ski crampons)
| | | |
| --- | --- | --- |
| one day | € 40 | CHF 45,- |
| 5 days | € 110 | CHF 125,- |
| 6 days | € 150 | CHF 165,- |
| extra day(+6) | € 20 | CHF 25,- |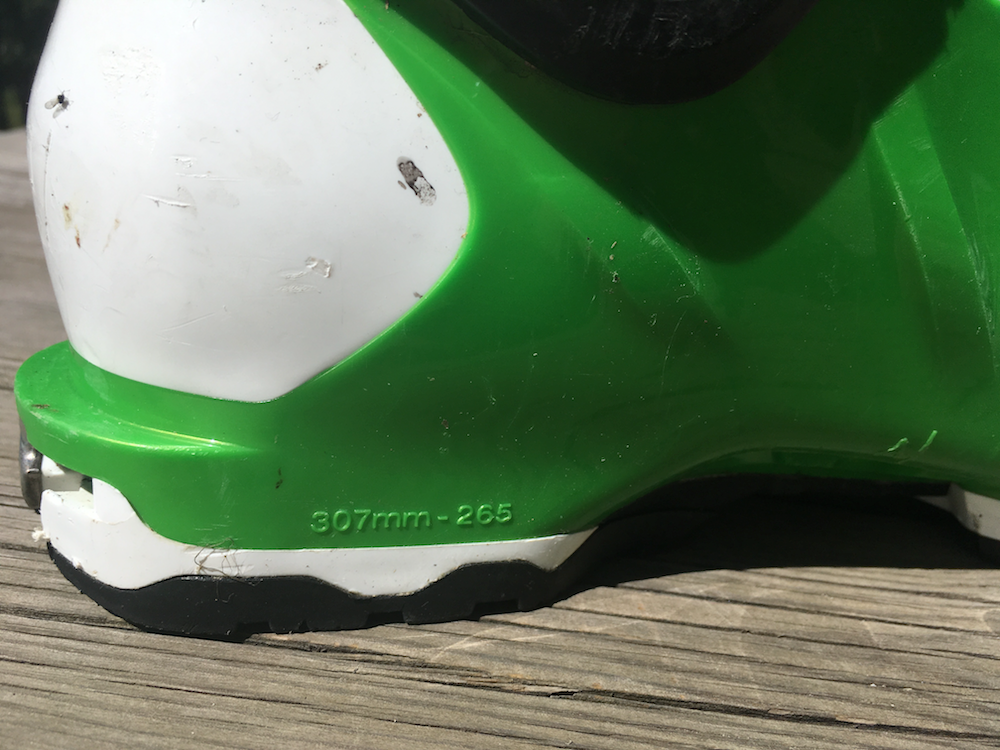 Reservation is necessary. Please reserve by mail or inb your booking form, maximum 10 days before the start of your trip.
To be able to reserve, please send a mail with the following info:
Name
Trip and date
Body lenght in cm
Weight in kg
Length of your skiboot in mm's, e.g. 316 (very important, this is mentioned on the side of your skiboot or you can mesure yourself). Without this information, we can not reserve your ski.
Shoe size
SKIBOOTS
Nowadays there is a large choice of skiboots. Racing boots, freeride boots, skitouring boots and all kinds of models in between. A specific skitouring boot is very flexible and equipped with a Vibram sole, which makes hiking more comfortable. These kind of boots are perfect for skitouring programs. For all other (freeride) programs in which you ski more than you hike, a downhill or freeride boots are more suitable more precise and better support easier to drive big ski's. They are available with a walking position too.
Skiboots should be comfortable but not too big!. In the Chamonix valley there are several specialized bootfitters, we are happy to help you making an appointment and give advise
We have a limited number of ski(touring) boots for rent in the (European) sizes 37 to 45. If we do not have a nice fitting boot for you, you can always visit one of the skishops nearby and try some others.
Do you want to rent boots ? Please state this at your registration. Please note that the boot rental will not be on your invoice because your boots should fit well and be comfortable. In case none of our boots fit well enough, there are shops nearby with a large choice of ski(touring) boots. That's why we prefer you paying your boot rental on the spot. Calculate for rent at € 10 per pair per day.
Snowboarders / splitboarders
Most of our skitrips are also suitable for snowboarders. However, you should have excellent technique in all areas, including steep, icy, slopes, between trees and on long traverses. Besides this you should be able to handle your board quickly and easily. All snowboarders should be equipped with a splitboard. We have a selected sumber of K2 Joy driver splitboards for rent from our own depot in the sizes 152, 159 and 165 cm.
splitboard rental prices (incl skins and ski crampons)
| | | |
| --- | --- | --- |
| one day | € 45 | CHF 50,- |
| 4 days | € 165 | CHF 185,- |
| 5 days | € 190 | CHF 215,- |
| extra day(+6) | € 25 | CHF 30,- |
Contact
We spreken Nederlands, we speak english, nous parlons français, wir sprechen Deutsch
Edward Bekker Ski & Alpinisme Switzerland Sàrl
Route d'Emosson 4
Espace Mont Blanc
CH-1925 Finhaut
Valais - Switzerland
Built with HTML5 and CSS3 Copyright © 2023 Edwardbekker Sàrl - Website by MV