The Mont Blanc, the roof of Europe, has an enormous attraction for climbers from all over the world. Every year 17,000 to 20,000 people make an attempt to climb the summit. These are not all experienced mountain climbers. You can also climb the Mont Blanc without any notable mountaineering experience, but you do need to do a number of preconditions.
1. Provide professional, experienced guidance

Only IFMGA recognized mountain guides are allowed to take you to the summit of Mont Blanc against payment. This is strictly controlled in the Alpine countries. If you go to Mont Blanc for a fee with someone, check if he is in possession of the IFMGA/UIAGM guide identification. You can ask for it, a certified mountainguide always carries it with him/her. Realize that every other adventurer, instructor or (International) mountain leader who guides on Mont Blanc can even be arrested on the mountain by the PGHM (mountain police and rescuers). In addition, you know at a UIAGM / IVBV / IFMGA guide that he has a proper third party insurance, should something go wrong unexpectedly.
2. Choose an outfitter that is at home in the Mont Blanc massif
The Mont Blanc is a special mountain in the Alps. It is not only the highest mountain, it is also on the border between North and South and is the first large mountain seen from the West. All this - in combination with the many glaciers - makes the Mont Blanc has its own micro climate. The weather can change rapidy so you have to be flexible and the places in the huts are very limited, so you can not change your hut plan. This means that you have to be smart, know the mountain well in order to apply the right climbing strategy and all of this depends on experience (and of course sometimes a bit of luck). Even though headguide Edward is not always there himself during the summit climb; he also guides every climb from the valley to the details. In addition, we are on the road every day, summer and winter, outdoors in the Mont Blanc massif and know the structure of the snow and the conditions on the mountain. This is something that a guide or company that, for example, is based abroad , will never be able to offer.
Should you unexpectedly get sick or injured, then it is nice to know that an organization that is at home in the Mont Blanc massively speaks the language and the people on the spot know well and you can receive and guide where necessary, also in the valley.

3. Choose the right preparation
Climbing Mont Blanc is endurance sport. The ascent itself is a long day and - depending on the chosen climbing strategy - you have to have the energy to descend from the summit to the valley in one go. You not only train for the ascent of the summit of Mont Blanc, but also for the descent! In short, you have to have a very good basic physical condition. Cycling, walking, (trail) running, (mountain) biking and swimming are suitable. As long as you can build in real good endurance training of a few hours. Experience shows that for example several times a week half an hour to the gym alone does not meet, you will really have to go outside yourself, so you can really complete long training sessions. So go go out, run or hike long distances, make cycling trips of more than 100 km, only then are you really well prepared.
We assume that people who want to climb Mont Blanc are experienced athletes. An endurance athlete knows when he / she is fit. Do you really have no idea? Then look for professional coach to help you out with starting to excercise. You have to know your body really well in order to properly assess what you can still have and how you divide your powers. If you have never participated intensively, you will not learn that in a few months. Do you have little endurance experience? First choose another sporting goal, fore example a half marathon or a Gran Fondo Race on the bike. So gain endurance experience. Only then are you really ready for the Mont Blanc.
4. Train your technical skills
You do not have to be an experienced mountain climber or rock climber to have the Mont Blanc, but you must have some skills. You have to be literally (and figuratively) firmly in your shoes, do not stumble and be a little handy. Do not forget: at height everything becomes more difficult, including putting on and taking off (hand) shoes, walking on crampons and pulling on and off and storing your camera. Do you not have that skill by nature? Train for it! For example, balancing sports like skating, roller blading and yoga are very good for your balance. Take, for example, as much as possible the stairs and take your steps as quickly as possible. This way you train a 'certain foot'. Do as before when you were a child and walk over that wall or curb. These are things that you quickly forget as an adult. If you have the chance to go to an (indoor) climbing wall once, that is a nice bonus, but it is certainly not a requirement. Make sure you train yourself in it so that you do not endanger yourself and someone else because of your ineptitude.
5. Choose the right equipment

Since the world famous skyrunner Kilian Jornet in July 2013 on running shoes and a bicycle helmet on his head in a record time of 4 hours and 57 minutes climbed the Mont Blanc and descended again from the church square in Chamonix, there are more and more trail runners who also think they should do the same to do. Unfortunately, many of them pay for the adventure with death. Kilian Jornet is a very experienced alpinist, an extreme athlete and by far the best of his kind. More and more often (fatal) accidents occur with so-called skyrunners: runners who want to climb high peaks in lightweight equipment. They often get to the summit, but unfortunately the descent becomes sometimes fatal. Hence, the mayor of Saint-Gervais, the commune of the Mont Blanc summit, decided in the summer of 2017 that minimal equipment is now compulsory: helmet, harness, rope, ice axe, crampons, a good paar of sunglasses or goggles, wind- and waterproof clothing, hat, sun protection and a backpack. The technical climbing materials are included in our Mont Blanc climbs; you have to take care of yourself.

6. Do not fool yourself
The Mont Blanc is a high mountain and altitude sickness is always on the lookout. You can be so fit, that does not say anything about how well you can keep up at high altitude. You could even have climbed a higher mountain (for example the Kilimanjaro) and still get sick on the Mont Blanc.
Altitude sickness is potentially life-threatening. Our guides are therefore trained to recognize the signals. However, the disease can be treated very well by ... descending. You do not have to worry that the guide will immediately send you down with the first signs of a slight headache and nausea, but do not be fooled. Say honestly how you feel. Are you a little light in your head? Say it then. Do you have no appetite or do you have a slight headache? Do not keep it to yourself and share it with your rope partners. Only then can we properly assess how you stand for it. Because honestly: that summit is great, but your life is more important! As we always say: that mountain is still there next year. And who knows, next time you just need some extra preparation time.
7. Take the time and adapt your mindset
If you want to climb Mont Blanc, you are dependent on the vagaries of nature. You can still be trained as well, if the weather is not ideal, then there will be a moment when you have to choose whether or not to go further. In all cases the guide decides! It is not an activity that you can run on schedule, such as a marathon. Is it nice weather, no wind and no deep snow? Then the ascent is a lot easier than with wind, fresh snow, extreme cold and no visibility. So you have to be flexible and already assume that it can not go along with it. That top is not for sale, even with a large number of the best guides. In addition, you really have to take at least a week to be well acclimatised. A week to book a hotel or camping in Chamonix and to 'just' go to Mont Blanc when the weather is good, does not work. Those huts must be booked months in advance and that reservation can not be shifted. That is why we do not offer 3-day Mont Blanc climbs. At most you can book the summit after another program, such as a haute route from Chamonix to Zermatt. We want to be sure that you are well acclimatized and want to know who we have on our rope.
On the Mont Blanc you go in an extreme high mountain environment. If you have never climbed high mountains before, that can be quite overwhelming. That is not strange, it is more common that participants are overwhelmed by the extreme environment. Take it in you, feel it and taste it. Sometimes you must have experienced it earlier to be able to continue next time. Accept if it is too much for you. Consult with the guide and realize: that mountain will really stay there and come back (next year). Or first climb a simpler mountain and gain some extra mountain hiking experience before you try again.
8. Know what you are doing and accept a residual risk
You read it everywhere: the Mont Blanc is a deadly mountain. What we do as an organization is continuous risk management: we try to keep the dangers as manageable as possible. For the time being, that works very well; In all those 35 years, we have never had to regret a serious accident on Mont Blanc . And we want to keep it that way! In spite of this, more than 1000 participants have summited with us.
.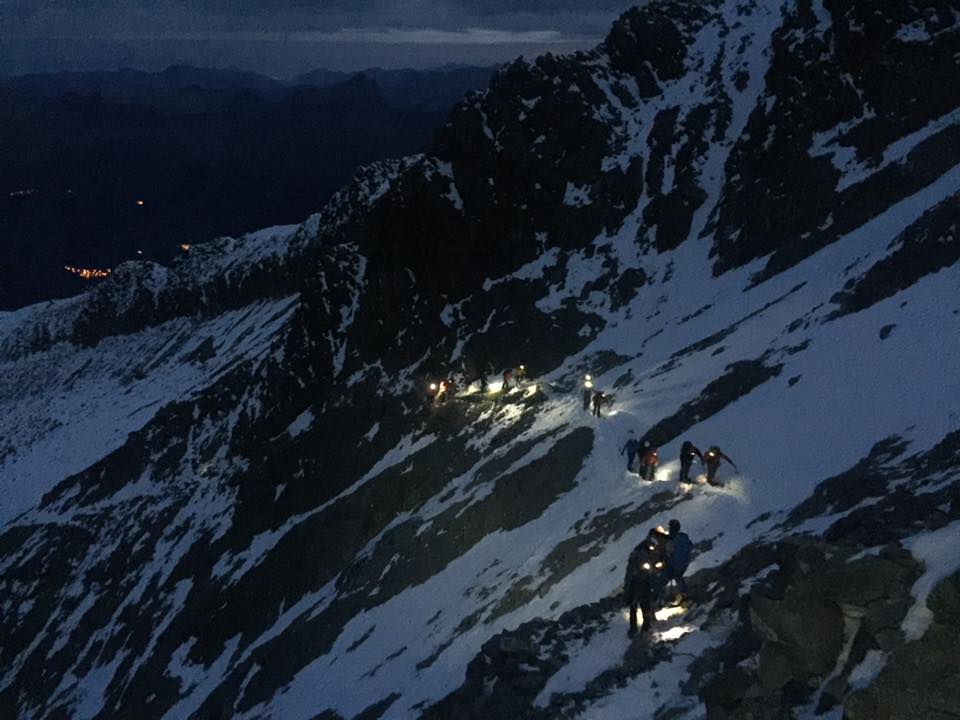 That means that if we estimate that the dangers are too big, we will not go up. We then choose another, nice alternative. We may be somewhat more conservative in this than other providers. But as a father, mother, partner, son or daughter you also have a responsibility towards your relatives and friends. And the same goes for our guides: it can never be worth it to lose a life for the holiday pleasure of someone else.
The Mont Blanc is dangerous. There are dozens of fatal accidents per year. Especially the gravel-hazardous grand couloir is a risky passage that you have to take. You can choose other routes, but they are technically more difficult and have other dangers, such as avalanches and overturning seracs - not a serious alternative for inexperienced climbers. No guide goes with pleasure through the grand couloir and he / she takes it with you on the rope with danger for his own life. In general, the grand couloir is safer in the morning, when there is no sun on it. That is why we sometimes put a little time pressure in the descent. As soon as you have passed the Grand Couloir in the descent, you may consider your Mont Blanc as successful.
9. Giving up IS an option
We often get instilled that giving up is not an option. In mountain climbing, giving up is actually an option. And sometimes it takes more courage to turn around than, for example, losing fingers and toes to frostbite. That is not a cool hero story, that is mainly stupidity that you have to pay for with a disability for the rest of your life. Of course, it is endurance sport in extreme conditions. You will certainly ask the utmost of your body and your mind. But after everything you've read above, you do not have to be ashamed if you do not like it and you have to turn around.
Mountaineering is a team sport. In the case of Mont Blanc, the teams, the rope groups, consist of two participants and a guide. A guide can safely leave you in a hut, but nowhere else. So if you can not continue, the whole rope group will turn around to the hut. For the other participant, therefore, his / her top attempt has failed. That is why endurance experience is so important. If you know yourself well enough, then you can decide to stay behind in the elevated Gouter hut (or the lower Tête Rousse hut) and do not attempt to make a top attempt. The guides also have so much experience with guests on the Mont Blanc, that they also feel at an early stage when a further summit is doomed to fail. Respect the choice of the guide. Congratulate yourself on how far you have come and prepare yourself mentally and physically for the descent so that you can return to the valley in a healthy and safe way.
10. Enjoy!
Imagine: it is 4 o'clock in the morning, the coldest moment of the night. You walk in the glow of your headlight high above the surrounding mountain tops. In front of and behind you you see a dotted line of small lights in the icy darkness. Suddenly you see a dash of pink-orange light behind the lower mountain peaks. Little by little the sun rises and your first rays of sunlight heat your numb body ... An experience you will never forget.
The climb of Mont Blanc is physically and mentally hard, but do not forget to enjoy!You might only do this once in your life. Ask Mont Blanc climbers who have just descended to the valley or want them again, they usually say: never again! But climbing is addictive. A day later you look back at the movies and photos with homesickness to that alpine mountain world...
You do this in your holidays. Do not forget that! Take the time for your ascent. Travel a day earlier to the mountains and enjoy a day relaxing in the valley, then with a full head of the stress come along and between the phone calls to think that 'just do it'. You do it mainly for yourself, not because your partner likes it as much as you go and not for your friends on social media or the respect of your colleagues at the coffee machine. Switch off from home and your work and ... enjoy!
If, after reading the above, you still want to climb Mont Blanc, we invite you to view our travel offer. But beware: you do this for yourself. We are not in favor of team building programs on Mont Blanc. You take this kind of risk because you want it yourself and not under the social pressure of a partner or colleagues.
Are you looking for a teambuilding or management training in the mountains? Then we can help and organize that. The Alps are full of beautiful mountains that are less overflowing but offer just as much challenge and bring your team outside the comfort zone. Be surprised by our expertise and contact us.
Contact
We spreken Nederlands, we speak english, nous parlons français, wir sprechen Deutsch
Edward Bekker Ski & Alpinisme Switzerland Sàrl
Route d'Emosson 4
Espace Mont Blanc
CH-1925 Finhaut
Valais - Switzerland
Built with HTML5 and CSS3 Copyright © 2023 Edwardbekker Sàrl - Website by MV