Submitted by

ilse

on Friday, 10 June, 2022 - 10:36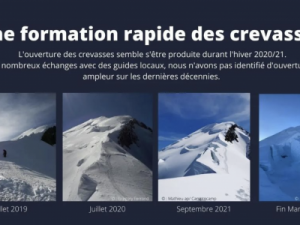 The most climbed route on Mont Blanc is the Goûter route, following the Bosses ridge towards the summit. It's the most classic route, which we basically always use for our Mont Blanc climbs. The route is technically the less hard of the available routes. Due to the climate change and retiring glaciers, the other routes already had become much more dangerous the last decade due to its increasing steepness, increased risk for sudden sérac collapses, hence avalanches risk. The classic route always used to be pretty safe above the Gouter hut. The biggest risk was mainly the "Grand couloir", which needs to be crossed, and its risks for stone fall. We've managed that risk by being extremely careful and crossing it on the less dangerous timing of the day.
This spring however, three researchers and climbers named Xavier Cailhol, Ludovic Ravanel and Jacques Mourey have prior to the skitouring season discovered a huge crevasse on the Bosses ridge between 4,594m and 4,650m. The crack opened significantly this past winter, and due to the dry and hot spring, it didn't fill up with enough snow to create snow bridges for the summer climbing season. During skitouring season, some very experienced ski tourers have summited Mont Blanc, contouring the crevasse. But this route leaves the ridge and uses the steeper north face. This makes it too hard and dangerous for inexperienced climbers, who may also put the guide at risk.
As a result, the ascent of Mont Blanc has become more technically difficult and requires great caution, as the glacier is moving and the crevasse is still changing.
We therefore decided to cancel our Mont Blanc expeditions at least until end of july, giving it time to see how the crevasse further develops. But one thing may be pretty sure: we will increase the required technical skills and experience for climbers without previous mountaineering experience. Those who have booked for cancelled trips, have been informed. For those who have booked Mont Blanc trips for august and september; we continue carefully studying the situation and in case Mont Blanc is really "no go" (partly depending upon your experience and skills, but also upon the further development of the crevasse and snow conditions on the mountain) we will offer, as always, an alternative programme.
Image Instagram Xavier Cailhol
++
De meest beklommen route op de Mont Blanc is de Goûter-route, over de Bossesgraat naar de top. Het is de klassieke route, die we eigenlijk altijd nemen voor al onze Mont Blanc-beklimmingen. De route is technisch gezien de minst moeilijke van de beschikbare routes. Echter, door de klimaatverandering en de terugtrekkende gletsjers waren de andere routes de afgelopen tien jaar al veel gevaarlijker geworden. De vergletsjerde flanken werden steiler, er kwamen meer instabiele straks (ijstorens) die spontaan konden omvallen met verhoogd lawinegevaar oa als gevolg. De klassieke route was altijd redelijk veilig boven de Gouterhut. Het grootste risico was altijd vooral het steenslaggevaarlijke "Grand couloir", dat moet worden overgestoken. We hebben dat risico altijd redelijk beheersbaar kunnen houden door uiterst voorzichtig te zijn en het couloir te overschrijden op statistisch gezien minst gevaarlijke tijdstippen van de dag.
Dit voorjaar echter hebben drie onderzoekers en klimmers cq (aspirant)gidsen genaamd Xavier Cailhol, Ludovic Ravanel en Jacques Mourey voorafgaand aan het skitourseizoen een enorme gletsjerspleet ontdekt op de Bosses-graat tussen 4.594 m en 4.650 m hoogte. De scheur, die afgelopen zomer en herfst nog niet zichtbaar was, is de afgelopen winter behoorlijk groot geworden. En door de droge en warme lente is er niet genoeg sneeuw gevallen om sneeuwbruggen te vormen voor het zomerse klimseizoen. Tijdens het toerski seizoen in de lente hebben enkele zeer ervaren toerskiërs de Mont Blanc beklommen door om de gletsjerspleet via de noordwand te klimmen. Maar deze route is een stuk moeilijker en gevaarlijker voor onervaren klimmers, die hiermee ook de gids in gevaar kunnen brengen.
Als gevolg hiervan kunnen we constateren dat de beklimming van de Mont Blanc deze zomer onherroepelijk technisch moeilijker is geworden. En zelfs voor ervaren klimmers vereist de beklimming vanaf nu extra grote voorzichtigheid, aangezien de gletsjer in beweging is en de gletsjerspleet nog steeds verandert.
We hebben daarom besloten om onze Mont Blanc-expedities in ieder geval tot eind juli te annuleren, zodat we de tijd hebben om aan te zien hoe de spleet zich verder ontwikkelt. Maar één ding is zeker: we zullen de vereiste technische vaardigheden en ervaring verhogen deelnemers zonder eerdere klimervaring op hoogte, voorlopig in ieder geval niet meer mee kunnen naar de top. Wat betreft Mont Blanc beklimmingen in 2023 zullen we de beslissing nemen in de herfst van dit jaar.
Degenen die geboekt hebben voor reeds geannuleerde reizen, zijn inmiddels geïnformeerd. Voor degenen die Mont Blanc beklimmingen hebben geboekt voor augustus en september 2022; we blijven de situatie zorgvuldig bestuderen en in het geval dat de Mont Blanc echt "no go" is (deels afhankelijk van je eigen ervaring en vaardigheden, maar ook van de verdere ontwikkeling van de gletsjerspleet en sneeuwcondities op de berg) zullen we, zoals altijd, een alternatief programma bieden. Want vergeet niet; de Mont Blanc is weliswaar de hoogste top van de Alpen, maar ook de drukste en er zijn (hier in de buurt) nog vele andere prachtige 4000-ers te beklimmen !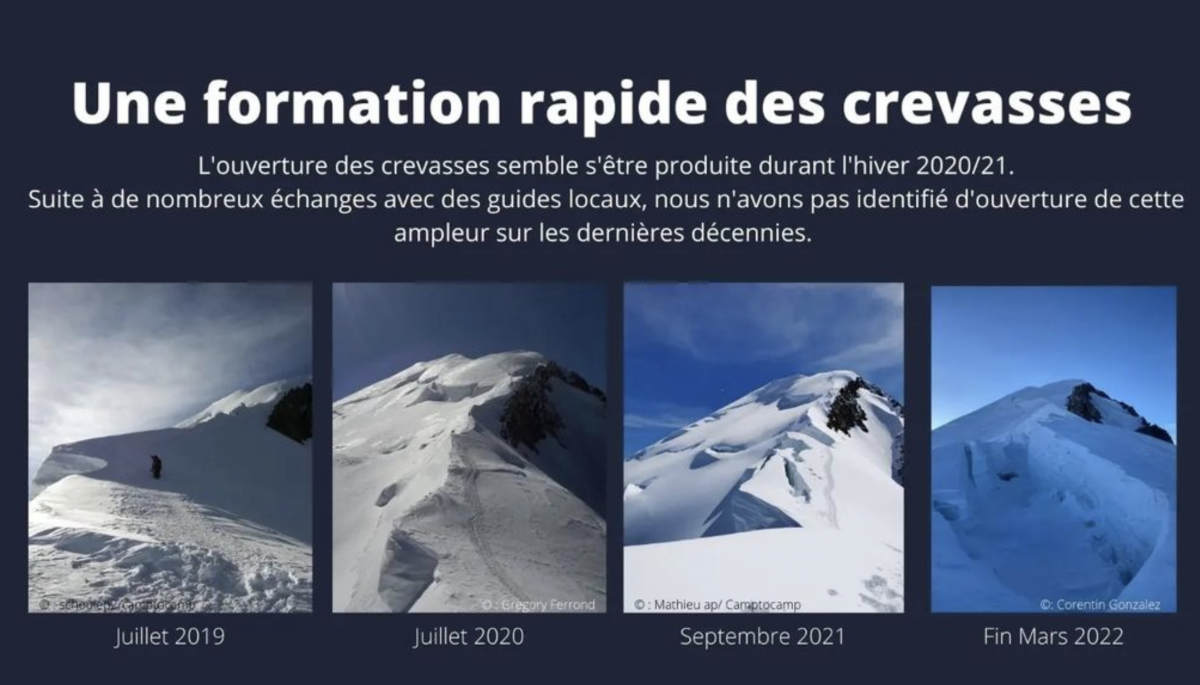 Contact
We spreken Nederlands, we speak english, nous parlons français, wir sprechen Deutsch
Edward Bekker Ski & Alpinisme Switzerland Sàrl
Route d'Emosson 4
Espace Mont Blanc
CH-1925 Finhaut
Valais - Switzerland
Built with HTML5 and CSS3 Copyright © 2022 Edwardbekker Sàrl - Website by MV