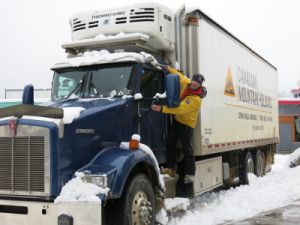 Een lang gekoesterde jongensdroom van Edward gaat deze winter in eindelijk vervulling. Overmorgen vertrekt hij voor de hele maand december naar Canada om aan de slag te gaan als heliski gids bij CMH heliskiing. Als eerste Nederlander bereikt hij de status van heliskiguide bij het grootste en meest prestigieuze heliskibedrijf ter wereld met 12 heliski lokaties waarvan 9 eigen lodges in de Canadese Columbia Mountains. (English version below)
Al sinds 1993 organiseren wij jaarlijks de inmiddels befaamde ski & roadtrip naar Canada. In de minivan of truck met Edward achter het stuur ontdekten inmiddels velen de mooiste skiplekken van Canada. Een paar dagen heliski was al snel een vast onderdeel en hoogtepunt van de jaarlijks terugkerende trip. In 1998, precies twintig jaar geleden dus, ging Edward met twee klanten voor het eerst heliskiën met CMH (Canadian Mountain Holidays) in Revelstoke... en was meteen stoked.
De samenwerking is extra verstevigd vanaf de oprichting van CMH Benelux. Sinds 2010 worden de boekingen van onze klanten bij CMH door het team van CMH Benelux afgehandeld, waarbij de klant profiteert van de expertise van beide partijen.
Inmiddels heeft Edward uit pure interesse en honger naar alle ins en outs van het gidsenberoep al meerdere keren de uitgebreide -voor de heliski gidsen jaarlijks verplichte- guides training bij CMH gevolgd. Als gids bij CMH ben je niet alleen skigids, maar tegelijkertijd ook skipatroller en bergredder. Het dagelijkse lawinebulletin wordt bij CMH door het gidsenteam zelf samengesteld door continu sneeuwonderzoek. Eventuele reddingen worden ook door het gidsenteam zelf gedaan.
De komende maand zal Edward regelmatig gaan vloggen over zijn tijd als heliskigids in Canada. Volg onze site, facebook, youtube en instagram!
Overigens verandert er niets aan ons winterprogramma. Zoals altijd worden veel reizen door Edward zelf begeleid en daarnaast werken wij met een vast team van UIAGM gecertificeerde gidsen.
++++
Edward's long-cherished childhood dream is finally being fulfilled this winter. The day after tomorrow he will leave for Canada for the whole month of December to work as a heliski guide at CMH heliskiing. He is the first Dutchman to reach the status of heliskiguide with the largest and most prestigious helicopter skiing company in the world with 12 heliski locations, 9 of which are private lodges in the Canadian Columbia Mountains.

Since 1993 we organize every year the now famous ski & road trip to Canada. In the minivan or truck with Edward behind the wheel, many discovered some of the the most beautiful ski resorts and spots in western Canada and the Rockies. A few days heliskiing was soon a regular part and highlight of this annual trip. In 1998, exactly twenty years ago, Edward and his two of his clients went for the first time heliskiing with CMH (Canadian Mountain Holidays) in Revelstoke ... and was immediately stoked.
The cooperation has been strengthened since the establishment of CMH Benelux. Since 2010, the bookings of our customers at CMH have been handled by the CMH Benelux team, whereby the customer benefits from the expertise of both parties.
In the meantime, Edward has followed the extensive mandatory guides training at CMH out of pure interest and hunger for all the ins and outs of the guide profession. As a guide at CMH you are not only a ski guide, but also a ski patroller and mountain riescuer. The daily avalanche bulletin is compiled by the guide team itself at CMH through continuous snow research. Possible rescues are also done by the guides team itself.
The next month, Edward will regularly vlog about his time as heliskigids in Canada. Follow our site, facebook, youtube and instagram!
Incidentally, nothing changes to our winter program. As always, many trips are guided by Edward himself and we also work with a team of UIAGM certified guides.